Today I started with my Christmas baking. The first go was a Linzer Torte. Linzer Torte is a must for Christmas in our family. It was my late Mom's specialty. No one could bake Linzer Torte as she could and her Linzer Torte was famous even in the South Pacific. Since Mom's passing, it is now up to me, to keep up this family tradition and bake this cake for Christmas. Admittedly, I am still practicing, but it turned out pretty good. Don't you think?
What is Linzer Torte
Linzer Torte was most likely introduced in an Austrian village called Linz. Early recipes dating back to the 17th century.
The dough is like a shortcrust pastry. It contains ground hazelnuts or ground almonds. A layer of red currant jelly (or raspberry jam) is applied to the unbaked dough. This is again latticed with dough strips and brushed with egg yolk.
In most recipes for Linzer Torte, you don't find baking powder added. The cake gets soft because the jam soaks into the pastry. The original recipe is nothing for next day consumption. Linzer Torte is stable for several weeks if wrapped in aluminum foil and kept in cool dry storage.
Yet, if you need a Linzer Torte by tomorrow, add a teaspoon of baking powder. Your cake is ready to eat right away.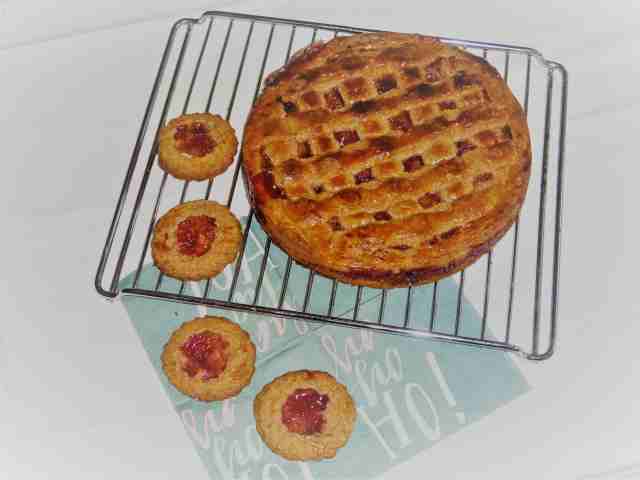 Linzer Torte Recipe – Ingredients
    For the pastry
7 oz / 200 g sugar
9 oz / 250 g ground almonds
7 oz /200 g flour
1 tablespoon cocoa
1 packet of vanilla sugar
1 teaspoon cinnamon
1 pinch of ground cloves
9 oz /250 g butter
1 egg
 1⁄2 fl oz / 2 cl  Kirschwasser ( optional)
butter for greasing the springform
   For the top layer
9 oz / 250 g Red current Jelly ( Optional: Raspberry Jam, Apricot Jam, Plum Jam)
1 egg yolk
1 tablespoon milk
and if you can't wait to eat your Linzer Torte: 1 teaspoon baking powder
How to bake the Linzer Torte
Mix all dry ingredients in a bowl and add butter cutting the butter in small slices. Then add the egg and the Kirschwasser (optional). Mix all the ingredients using the dough hook with your machine. Form with hands into a ball, wrap it in cling foil and put the dough in the fridge for about 30 minutes to one hour.
Grease the Springform with butter or use a non-stick baking paper and heat the oven to 360 Fahrenheit (180 C).
Cut 2/3's off the dough and leave the remaining 1/3 in the fridge. Use a 10 inch (26 cm) springform cake pan and press the dough onto the base of the pan using your knuckles. The layer should be about 1⁄2 inch (1 cm) thick and about 1 1⁄4 inch (3 cm) high on the edge of the Springform.
Now spread the jelly or the jam onto this layer.
Roll out the remaining dough and cut into 1 inch (3 cm) wide and  1⁄3 inch (1 cm) thick strips.
Lay the strips on the jelly in a grid shape.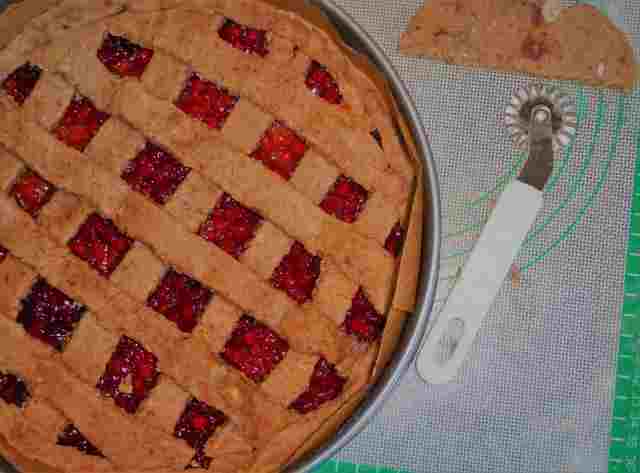 Stir the egg yolk and the milk and coat the grid and the rim with this mixture.
Bake the cake at 360 degrees F (180 C) for about 40-50 minutes.
Release it from the Springform let cool on a cake rack.
Tipps, hints, and tricks..to make your Linzer Torte a success
if you heat up the jelly for 30 seconds in a microwave, you can spread easier on the bottom layer

before I cut out the strips I put the baking mat in the freezer for 20 minutes. This way the strips don't get too soft and it is easier to lay them in a grid
for the original recipe, you do not use baking powder. The crust gets hard after baking and needs to sit and soak through for 3 to 4 weeks in a cool dry place. Then the cake will be soft.
before Christmas, it is nice to give your Linzer Torte a Christmassy look. Don't cut strips, use star-shaped cookie cutters and decorate the Torte with the stars.
with leftover dough bake cookies
freezing it is no problem. Wrap the cake in a freezer bag and close tight.
You are a vegan? You can still enjoy Linzer Torte. Use unrefined coconut oil (which is solid at room temperature) instead of butter. Use almond milk to coat it.