Year after year…
A few weeks before Christmas in most households, the hype for baking cookies takes over. We all bake Christmas cookies en masse. Also, I'm obsessed with baking traditional cookies. As a small child, year after year, I stood in the kitchen with my mother and cut out my cookies. This is what I have celebrated year after year with my children. Last year I baked cookies for the first time with my granddaughter.
But where does this tradition come from?
I researched the internet, where I find a few theories to this question:
'Why do we bake Christmas cookies?'
There are mainly three theories:
1: The tradition goes far back before Christianity
The Celts or the Teutons baked small honey-sweetened cakes for the feast of the winter solstice. Often these small cakes had the form of an animal. Supposedly, they served as an offering to their gods in order to ask for their protection during the cold winter months.
2: This idea states, that monks of medieval monasteries invented the Christmas cookies
Small spiced honey cakes were eaten by the Romans, in the Middle Ages, they found their way into the monasteries.  They became known as 'Lebkuchen' (kind of gingerbread) and consisted mainly of dried fruit, nuts, honey, fine and exotic spices, but only a little wheat flour. Monks fasted the weeks before Christmas but ate 'Lebkuchen' with their beer. It is also said that the monks gave 'Lebkuchen' out of charity to the poor.
3: The biscuit baking dates back to the early 19th century
Apparently the British were the pioneers, who liked to eat sweet biscuits with their tea. This tradition was also brought and established to the noble households in continental Europe.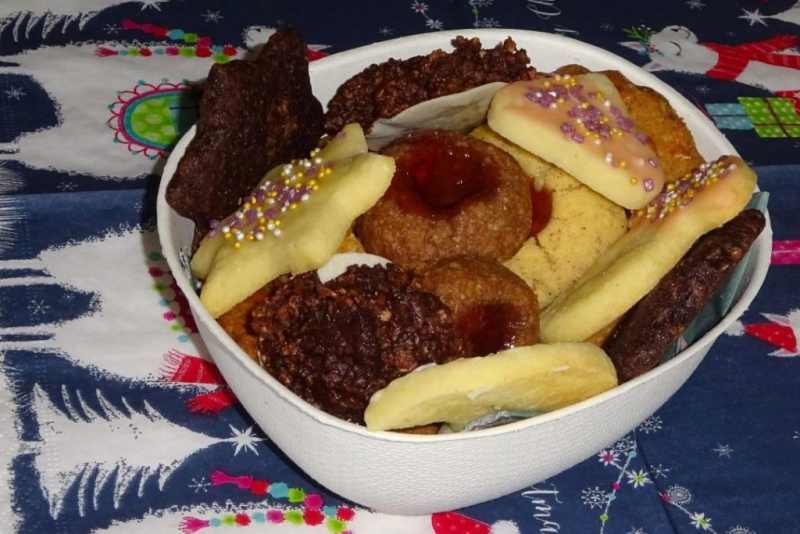 Personally, I do believe that there is some truth in all 3 theories, the heathen people had their traditions. The church had adapted quite a bit of pagan customs in order to get followers. And In the 19th century, at the time of industrialization, the mills became so advanced that they could grind the flour finer and finer. The baking took on different qualities, hence new variations of cookies became known.
Over decades different regions developed their typical cookies or biscuits. But most  Christmas cookies have the same basic dough, a shortcrust pastry which is very easy to make. Add varieties of spices, nuts or dried fruit you get all different sorts of cookies.
But the main reasons for me are:
I love baking Christmas cookies because this always moves me in a pre-festive mood, the house smells fantastic and I am having a wonderful, quality time with family members.
Today, I decided to share 3 types of my Christmas cookies with you:
My favorite this season (and my own creation)
The MUST each year
A traditional Christmas cookie from Frankfurt
1. My favorite this season: Sterntaler ( Star money)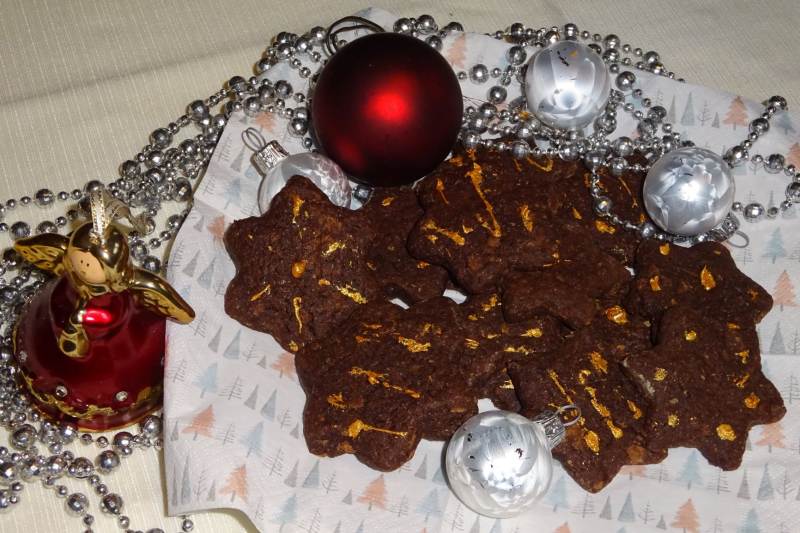 Ingredients:
10 oz/ 300 g icing sugar
5 oz/ 150 g butter (softened)
2 eggs
5 oz /150 g wholemeal flour
5 oz /150 g spelled flour
1 tsp baking powder
5 oz /150 g cocoa
3.5 oz /100 g grated milk chocolate
1 pinch salt
How to bake Sterntaler:
Mix sugar with butter, add the eggs and mix well then add flour baking powder, cocoa, and salt and stir into mixture. the crated chocolate add last and mix.
Kneed to a ball, wrap into foil and leave in the fridge for 30 minutes.
Then take a rolling pin, roll out the dough, about a quarter inch.
Cut out star cookies and put those on a baking tray lined with baking paper.
Bake on 350 F (180 C)  for about 15 minutes ( that is with my stove!).
Place on a rack to cool down. Then decorate with a golden sugar-coating …. up to your creativity.
2. The MUST each year: Ausstecherle ( cut out cookies)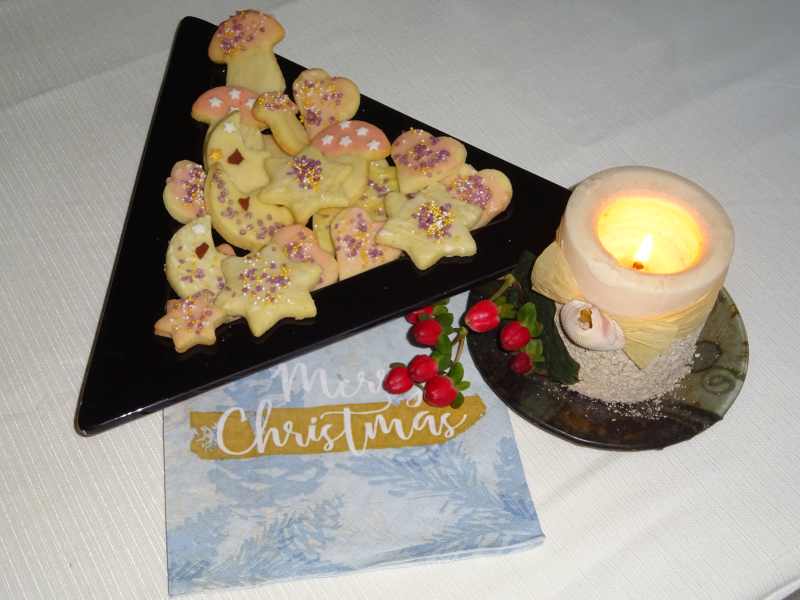 Ingredients:
9 oz /250 g flour
7 oz / 200 g butter (cold)
3.5 oz / 100 g fine sugar
1 egg
1 tsp baking powder
1 tbsp vanilla sugar
1 pinch salt
For the decoration:
5 oz/ 150 g Icing sugar
2.5 tbsp Lemon juice (or a bit of rum)
Edible sprinkles and glitter, chocolate chips
How to bake Ausstecherle:
Mix all dry ingredients together. Cut cold butter into small pieces and spread over dry ingredients.
Add egg and knead into a smooth, silky dough using your hands.
Form the dough into a ball wrap in foil and leave in the fridge for 1 hour.
Roll out the dough on a floured surface to a 1/4 inch thick sheet.
Cut out the biscuits with the cookie cutters of your choice. Place the cookies next to each other on a baking tray covered with baking paper.
Bake in a pre-heated oven at 350 Fahrenheit (180 C) for 12 to 15 minutes. Let the biscuits cool down and then decorate as you wish with your icing.
A basic recipe for the decoration:
mix the icing sugar with 2.5 tbsp fresh lemon juice,
add the juice spoon by spoon to avoid that the icing is too thin.
Decorate the cookies up to your creativity.
3. The specialty from Frankfurt: the Bethmaennchen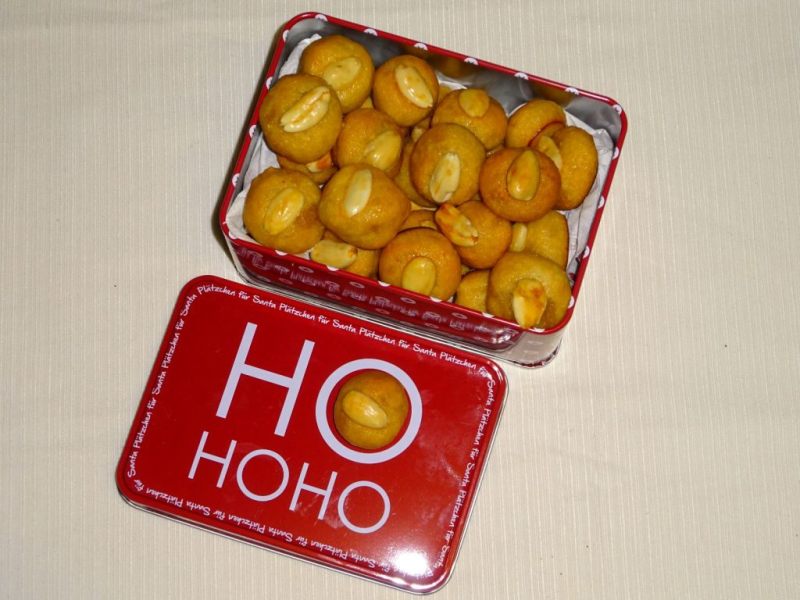 Ingredients:
3.5 oz / 100 g skinless, halved almonds
7 oz / 200 g raw marzipan mass
1 egg
2 oz / 50 g icing sugar
3.5 oz /100 g ground almonds
2 tbsp. flour
5 drops of bitter almond oil
1 tbsp milk
a pinch of salt
How to bake Bethmännchen:
Cut raw marzipan in pieces.
Separate egg. keep 1/2 of egg yolk for the icing.
Mix remaining egg yolk, egg white, marzipan icing sugar, ground almonds, flour, bitter almond oil and knead with your hands. Form a ball and press flat, leave in the fridge for 1/2 hour.
From the chilled marzipan mixture form 2 strips, cut strips into about 30 pieces and form those into cherry-sized balls.
Press 3 almond halves into each cookie, tips pointing to the top.
Place the bethmännchen on a baking tray with baking paper.
Mix left-over egg yolk with milk and salt. Brush bethmännchen lightly with this mixture.
Bake in a pre-heated oven on 340 Fahrenheit (170 C) for 25 minutes or until light brown.
Once you tried out these recipes I hope you'll like them as much as I do.
I wish you all a Merry Christmas….with lots of delicious cookies
By:


Andrea