When you are on the mission of buying a slow cooker then finding the ideal size is most important. The various slow cooker sizes have different benefits depending on what dish you plan on cooking and for how many people you are going to cook.
If you prepare meals only for yourself and your partner then a small slow cooker should be enough. But if you have a large family to cook for or you do intend to cook and warm up the next day, then you should definitely look for a larger slow cooker. There are various slow cooker sizes available from tiny 1.5 quarts to about 8 quarts capacity.
The right Slow Cooker Size
One thing to keep in mind when choosing the right slow cooker size is the fact that the given capacity is not really what you are going to get out of it.
A slow cooker may have a large capacity printed on the box, but the usable cooking space is about three-quarters to four-fifths of the capacity indicated. This is the amount at which fill level they work best and are safe to use.
If it says 6 quarts slow cooker, you can effectively cook only about 4.5 to 5 quarts.
Slow Cooker Size Guide
The bigger the better is not always right when it comes to slow cooker sizes. For a slow cooker to work properly, it must be at least half full, even better about three-quarters full.
| | | |
| --- | --- | --- |
| Slow Cooker Size | Best for  | Slow cooker |
| 1.5 to 2 quarts | Cooking for one to two people | |
|  3.5 to 5 quarts | Ideal choice for a family of 3 or 4 | |
| 5.5 to 8 quarts | Best slow cooker size for family of 5 or to stock up on food | |
| 8 quarts and more | Cooking for large families and groups | |
What size slow cooker for one person
These would be the 1.5 to 2 quarts models. They are really small and are only suitable for one – or two-person households. The small amounts of food that can be cooked with them at a time, make them also ideal for people who don't have space to store or simply don't want to eat warmed-up leftovers the next day.
The often round design of the small slow cookers of around 1.5 quarts capacity makes them unsuitable for large meat cuts or even a small chicken won't fit really in.  However, they can be useful for making side dishes, dips, sauces, small batches of soups, stews, and casseroles.
3.5 to 5 quarts – best size slow cooker for 4
This is a good size to prepare an ideal dish that is sufficient to feed a family of 4. There might not be much left over when there are 4 good eaters at the table, but this got the benefit of no food being wasted if one doesn't like to warm up leftovers.
A two-person household, however, may have a filling meal to be eaten right away, and there will easily be enough leftovers for warming up a quick meal on the next day.
Slow cooker sizes of around 5 quarts are great for preparing big pots of stew, hot chilies, tasty curries, and slow cooking bigger meat cuts or cooking a whole chicken.
6 to 8 quarts Sizes
That's the slow cooker size for a family of 5 or more, whenever there are a lot of big eaters around.
Large 6 to 7-Quart slow cookers are the most versatile. They can fit large cuts, like beef brisket, a big ham, a turkey breast, or a whole chicken easily. And when you have to cook a huge pot of goulash to feed the whole football team, you definitely need a huge slow cooker like this.
They a great for cooking in large batches, which you can then freeze in portions so there is always a tasty meal for those days when there is no time for cooking.
Biggest Slow Cookers – 8-quarts and over
This is about as large as slow cookers get. Those sizes are ideal when cooking for a real crowd. Whole large chickens, big pieces of turkey, big roasts, ham and other big cuts of meat can be cooked in one piece.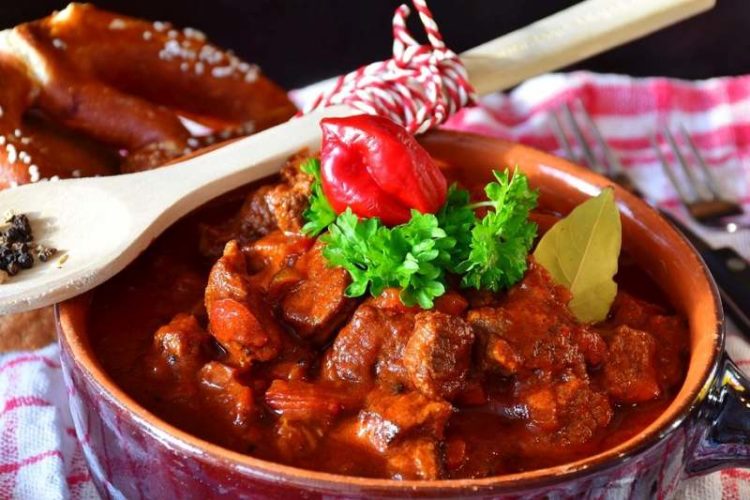 What else is important besides the Slow Cooker Size?
In addition to getting the right size, buying an item made by a reputable kitchen appliance manufacturer is important. It pays to buy a high-quality product that is of the best possible workmanship and good materials. This not only ensures safe and reliable operation but in most cases, reflects in the long life span of the device.
Unfortunately, it is often not easy to tell if a particular Slow Cooker is of high quality or not. Find out where it is made, make sure you read the product specifications properly, check for safety standard certifications, and best avoid super cheap stuff and buy from a reputable household appliance manufacturer.
What size Slow Cooker should I Buy?
The right slow cooker size depends on:
How many people you want to cook for
Type of food or dishes you plan on cooking
Do you cook often for stocking up on food
The best size slow cooker for 2 -person household, is a small model of under 3 quarts.
Sizes of 3.5 quarts to about 5,5 quarts are suitable for families of 4 that are good eaters.
The big slow cooker sizes of 6.5 quarts and more are often too big for most families. They are only suitable for very large families, when cooking up for a feast, or when stocking up on food and freezing leftovers.
When choosing the slow cooker size to buy, please remember that for a slow cooker to work efficiently and energy economic the inner pot should be filled at around three-quarters.
Investing in 2 slow cookers of different sizes may be a  good idea as the additional purchasing price can be offset by saving on electricity costs and reducing your and your family's environmental footprint.
Latest posts by Kitchen Cookings
(see all)