Do you want to prepare a tasty slow cooked dish but can't spare all day doing it? This large 7-quart slow cooker makes it easier to prepare a delicious meal for a large family or group of guest.
A large slow cooker for big families
The Crock-Pot 7 Quart Oval Manual Slow Cooker (SCV700SS) comes in a size that is big enough to serve 8 and more people. It is made to be durable with the stainless steel exterior and stone insert.
This slow cooker is produced by the Crock-Pot brand that has started producing slow cookers 40 years ago as a solution to cooking beans. Today, their line of slow cookers are used by families all around the world not only to cook beans but other tender and tasty meat, vegetable, fish and other dishes.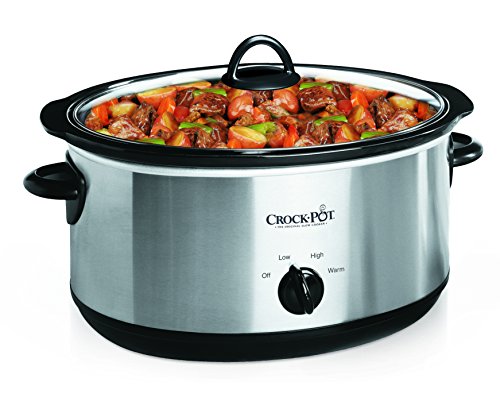 Large 7 Quart Capacity
With the large 7 quart capacity, you can prepare enough food for 8 people or more. It is also possible to create a large batch of chili or any other dish at once through the big size capacity.
Slow cooked whole chicken, turkey or ribs can also fit inside the slow cooker. It is also great for huge amounts of slow-cooked soup with lots of vegetables.
Removable Inner Stoneware For Easy Cleanup
The inner stoneware is removable, making it possible to serve the prepared dish on the inner stoneware itself. On its own, it looks presentable and beautiful enough as a serving dish. It can also be placed in storage or inside the refrigerator as a storage container for leftovers.
Easy Clean-Up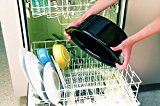 Cleaning up after cooking is also easy. Due to the removable stoneware dish, it can be cleaned and placed in the dishwasher along with the glass lid. The stoneware is removable, making it easier to clean without risking the heating elements from getting wet. The lid and the stoneware dish are both dishwasher safe too.
3 Cook Settings
The slow cooker can be used in 3 settings. The first is the "high" option, which cooks the food in the hottest temperature. Next is the "low" option for simmering. Lastly, there is also a "warm" option that makes sure the food is always ready to be served but doesn't overcook it in the process.
Beautiful Stainless Steel Exterior
The beautiful stainless steel exterior of the slow cooker looks great in any kitchen. It has a shiny finish and looks great on top of your kitchen counters. It is a good looking slow cooker that you wouldn't need to hide.
Pros and Cons
This product is great for those who are looking for a slow cooker that is very simple to operate because of having only a few settings.
This 7-quart slow cooker is best for those who need a larger capacity slow cooker for a big family or those who tend to prepare slow-cooked dishes in larger batches.
Pros
Easy to clean and dishwasher safe too
Simple and easy to use
Stoneware Crock
Large capacity is perfect for family gatherings
Has a keep warm option to make the food warm but won't burn it
With warranty
Cons
Not insulated from the outside which is why it can feel very hot that it can cause burns
Doesn't have exact temperature settings and you can only choose from low, high or keep warm
Lid doesn't offer a tight seal
Summary of this large 7-quart slow cooker
The Crock-Pot 7-Quart Oval Manual Slow Cooker (SCV700SS) is a very basic manual slow cooker that allows you to choose to cook at a high or low temperature.  Take note that this is a manual slow cooker and it won't automatically adjust the cooking setting or shut off. This is one of the most affordable large slow cookers from the market leader Crock Pot.
The Crock-Pot 7-Quart Oval Manual Slow Cooker (SCV700SS) is an effective slow cooker that will be of great help in the kitchen when cooking meals for large a large family.
It heats up efficiently but be careful not to touch the stainless steel outside while cooking and make sure to give it some room on your kitchen counter.
When you order this 7-quart slow cooker, you will also receive a recipe book so that you can get started on your slow cooking experience.