A Tagine is a traditional Moroccan cooking vessel that used to be made of clay, but today is often made of ceramics or cast iron. It consists of a bottom in the shape of a bowl and a matching lid in a conical shape, at the top of which is the so-called vapor barrier.
Many traditional tagine dishes can easily be prepared in a slow cooker.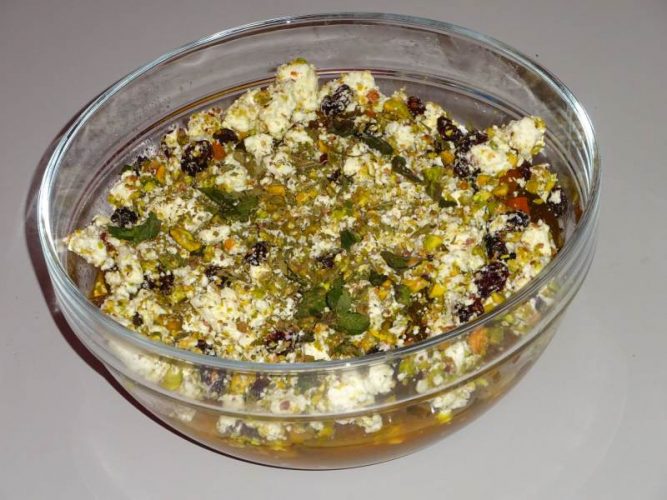 Vegetable Tagine with chickpeas
Ingredients:
5 oz shallots
2 cloves garlic peeled
1 red, 1 yellow and 1 orange pepper
8 oz carrots
ground coriander, ground cumin, turmeric, ground black pepper and salt ( 1 tsp each)
15 oz beetroot
3 tbsp margarine
1 orange (organic)
2 bay leaves
1 cinnamon stick
1 can 15 oz chickpeas
1 tbsp saffron threads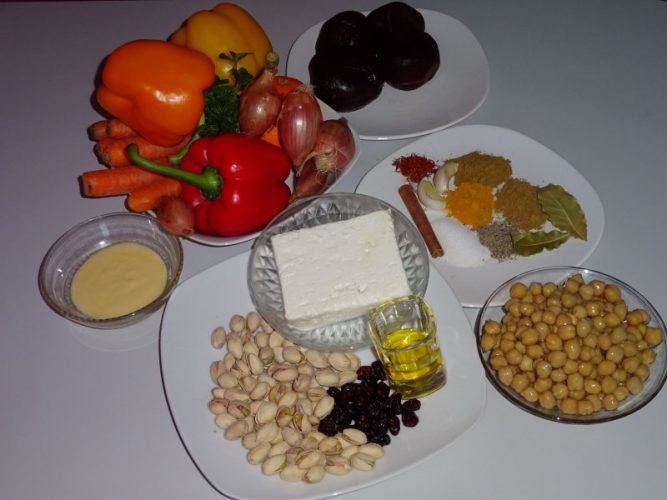 Topping:
3 oz roasted and salted pistachios
6 g feta cheese
2 tbsp dried cranberries
mint leaves
2 tbsp olive oil
How to cook the vegetable tagine with chickpeas:
Peel the shallots and quarter them, finely dice the garlic. Cut and core the peppers then peel the peppers with a potato peeler and cut into strips of about 2 cm. Peel the carrots and cut into 4 cm long sticks.
Roast ground coriander, ground cumin, turmeric, ground black pepper and salt in a frying pan until the aroma has developed
Place the cut veggies in a bowl and sprinkle those with the spice mix. Let it sit for about 10 minutes. Meanwhile cut the beetroot into wedges (use household gloves!)
Heat the margarine in a frying pan and fry the veggies for about 4 minutes, then carefully add the beetroot wedges and fry for 1 more minute.
Wash the orange, with the potato peeler, cut a 10 cm long strip of the zest, cut the orange in half and press out the juice. Now place the veggies in the slow cooker, pour in the orange juice, add the cinnamon stick, the bay leaves, and the orange zest. Turn on the slow cooker at high temperature and simmer for 1.5 hours.
Drain chickpeas wash them off with cold water and stir into the vegetables. Soak saffron threads in 2 tbsp of warm water, then pour over vegetables, reduce heat on the slow cooker. Cook on low for 3 hours.
For the topping shell and chop the pistachios, roughly crumble the feta. Mix feta crumbs with cranberries and chopped pistachios. Pluck the mint leaves from the stem.
Move the vegetable chickpea mix into a bowl, remove cinnamon stick and bay leaves. Pour the olive oil over the vegetable chickpea mix add some salt and pepper and cover it with the topping.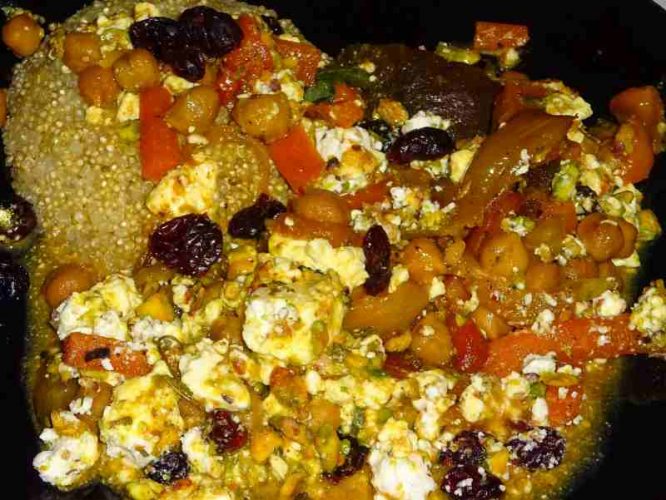 Serve the Veggie Chickpea Tagine with Couscous or Quinoa.
By:


Andrea