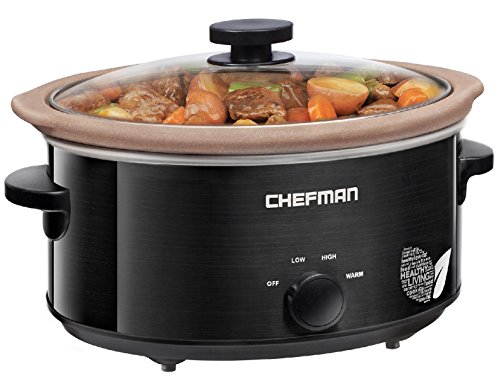 Slow cookers bring convenience into the kitchen. They allow you to set a dish to cook and then simply walk away and go about other business, while your meal will be preparing itself. Slow cookers not only differ in sizes and different prices, they are also of different build qualities and have different features. The Chefman slow cooker is as much natural and free of toxins as a slow cooker with stoneware pot can be.  It is the only certified paleo slow cooker.
Chefman Slow Cooker, All Natural, Chemical-Free, Nonstick, Certified Paleo  Slow Cooker
If you are into Paleo cooking and want a slow cooker that fits the thought of paleo, then your options may be limited. Fortunately, this Chefman slow cooker is designed with you in mind. It is a natural, Paleo certified slow cooker that is sure to meet all of your requirements.
This model slow cooker comes in 3 sizes at 5 quarts, 6 quarts, and 7 quarts.  It is large enough to cook up dishes for the whole family and allow you to make stock and other things to store for long periods of time.
Chefman is a great name in kitchenware, shining particularly bright with this offering. Here, Chefman has put together a large, Paleo-friendly nonstick slow cooker.
Features Chefman Slow Cooker
Paleo certified stoneware crock
Crock is dishwasher, oven, and stovetop safe
Chemical free
5 quarts
Nonstick
Key Features
Paleo Certified
Paleo certified means that this slow cooker is approved by the Paleo Foundation for use by people on a Paleo diet. It is chemical free and is naturally nonstick. Its crock is made of high-quality natural stone, and that both makes it resistant to sticking and also safe for use in the oven and on the stove.
5 Quarts
A 5-quart slow cooker lets you prepare large amounts of food easily. Large enough to fit a whole chicken, turkey leg or ribs or slow cook a big pot full of vegetable stew. If frequently cook for large groups of people or have a really big family of good eaters to feed, then you can choose a large model, as this Chefman slow cooker comes also in 6 and 7quarts capacity. This also makes it ideal for making and storing large amounts of stock to be used in future dishes.
Versatile — Oven And Stove Top Safe
The Chefman paleo slow cooker's stoneware pot can also be used in the oven and on the stove. In addition to, of course, its home in the slow cooker, it can be used perfectly safely in those two ways. This makes it an extremely versatile tool, and makes it easy to, for instance, brown meat on the stove and then transfer a dish to the oven, only to finally let it cook in the slow cooker overnight.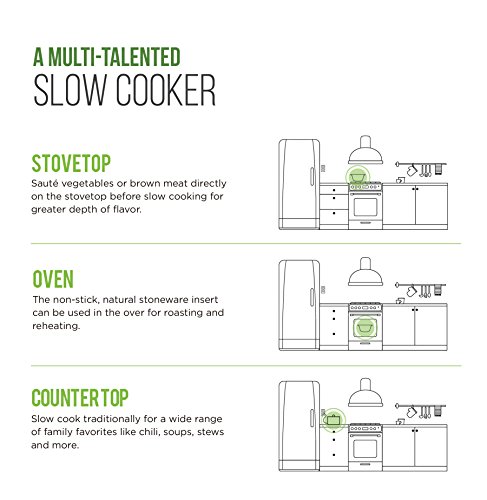 Pros and Cons
This 5-quart paleo slow cooker, beyond being a useful piece for making stock and soup, is perfectly well suited to making meat dishes. It can be used both in the oven and on the stove, which when combined makes this slow cooker ideal for making roasts and pork dishes.
Pros
Simple and easy to use
Large capacity is perfect for family gatherings
Paleo certified
Stoneware pot –  non-stick
Oven and stovetop safe
Pot is dishwasher safe
Comes in 3 sizes
Cons
Stoneware pots can crack, avoid thermal shock
Summary of the Chefman Paleo Slow cooker
If you are on the Paleo diet and also prefer to cook organic, then you need a slow cooker that is chemical free. In that case, this is likely the cooker for you. It is versatile, effective and available in three sizes to choose from. But even if you aren't on that particular diet, this is a great buy. It is priced very fairly for everything that it does, it can be used in the oven or on a stove, is dishwasher safe. At 5 quarts, it is large enough to accommodate virtually any recipe you will find, and it can easily serve a small party or family.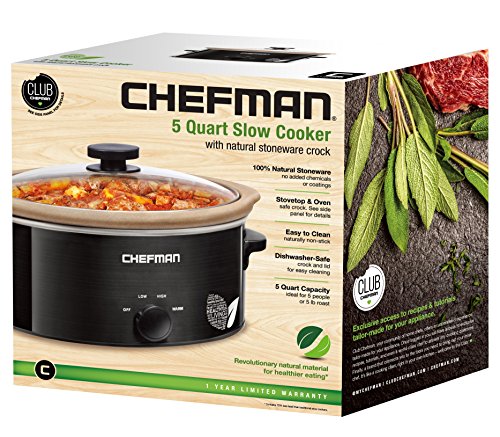 Final Verdict
Chefman presents a great slow cooker deal. A high quality, solid, versatile kitchen helper at a very affordable price that won't hurt your pocket. In addition, it is Paleo certified slow cooker, which may not be important to everyone, but it certainly can't be a bad thing as it comes with a non -stick stoneware pot free of chemicals.
Prepare healthy meals slow cooking at low temperature for your family to feed or like to host small parties, choose from 5 to 7 quarts. It can accommodate large batches of food, including chili and soup, and can then serve rather large numbers of people. You can make large amounts of stock, or any other dish, easily and guilt-free, knowing that it is a Paleo certified piece of kitchenware (without any chemicals).
This slow cooker comes with a 1-year warranty by Chefman.
Find out more about this Paleo certified slow cooker on Amazon