Since living in Germany, I have discovered food products that I have never heard of before. Like green spelt. When I saw this product in the supermarket it made me curious. It looked to me like green wholegrain rice. I was instantly curious to find out more about this grain and what benefits it has.
About Green Spelt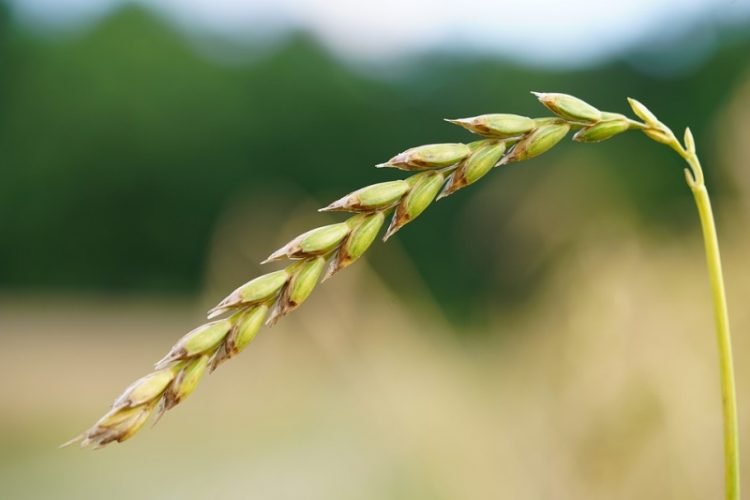 Green spelt is unripe spelt that is roasted and dried. This gives it its intense nutty and slightly smokey aroma and makes it better digestible. If you ask yourself why would anyone harvest unripe spelt, here is a little story to it.
Around 1660, northern and eastern Europe suffer through periods of drought and cold and wet summers which lead to a really bad harvest. In desperation, farmers began to harvest the unripe spelt, which was then dried and could be kept all year around. It was a very important staple crop for a very long period of time with a very high nutritional value.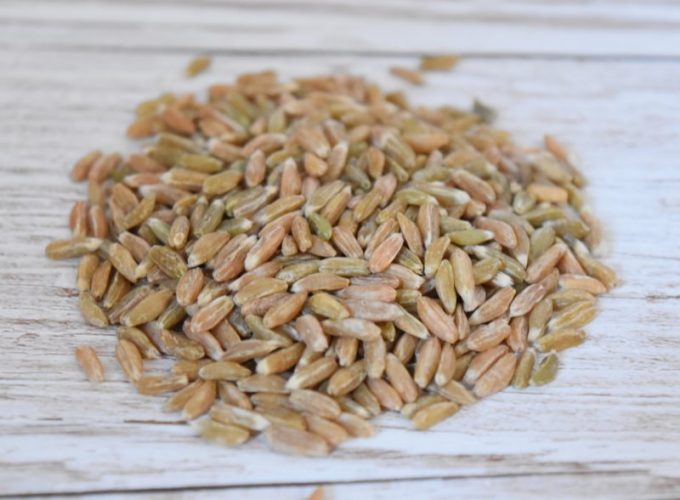 This whole grain has a high content of B-group vitamins, which is very important for the brain and nerves! It also contains a high amount of minerals such as magnesium and phosphorus. And it's great for vegans and vegetarians! It has a high protein content – 11 g of protein in 100 g of green spelt and high iron content of around 4 milligrams.
However, due to modern-day wheat, green spelt sort of went under and forgotten. But it is slowly making its way back into the kitchens and can be used in so many dishes. As an alternative to rice, as a meat substitute, in soups, salads, or even enjoyed as a dessert.
I decided to try out zucchini stuffed with green spelt on a salad bed.
Zucchini stuffed with Green Spelt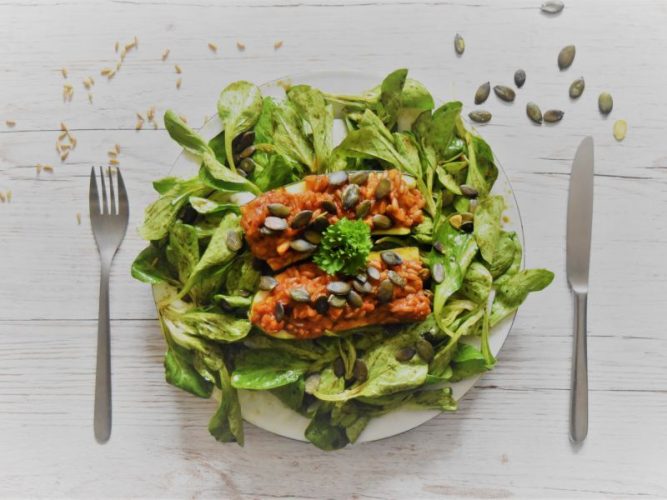 Ingredients for two servings
5 Oz green spelt
1 large zucchini
half an onion
one can of tomato puree
1 tbsp refined olive oil
1 tsp Italian herbs
a pinch of salt
a pinch of pepper
For the salad bed:
2 handfuls of lettuce of choice
Salad dressing of choice ( I chose a balsamic dressing)
Topping:
3 Oz pumpkin seeds
a handful of parsley
Stuffed Zucchini Preparation
Prepare the green spelt according to the instructions on the packet.

Preheat the oven to 360 ° F top/bottom heat.

Wash the zucchini, cut it in half, and scoop out the flesh. Chop the zucchini flesh.

Finely dice the onion and sauté with olive oil in a pan. Add the zucchini meat. 

As soon as the green spelt is done, add in the can of tomato puree and fried zucchini flesh.

Let the filling simmer for a few minutes and season with Italian herbs, salt and pepper.

Place the zucchini halves on a baking tray lined with baking paper. Fill the zucchini halves with the green spelt sauce and place in the oven for 20 minutes.

Prepare the salad and dressing.

Roast pumpkin seeds in the oven and chop parsley.
Once the zucchini halves are done, remove them from the oven.
Mix the salad dressing with the salad and place on a plate.
Bed the zucchini halves on the salad and garnish with pumpkin seeds and parsley.
Enjoy!