When making a salad, I usually wind up with the same vegetables. Lettuce, tomatoes, and cucumber. That's why I'm not really a fan of salad. But lately, I've been trying to vary to get more different vegetables on my plate, and one vegetable, in particular, caught my eye. Fennel. I have never eaten fennel before and thought I'd try a salad with roasted fennel.
But before I share my recipe, let's find out exactly what this light tuber, with bushy fine green leaves is.
About Fennel
Believe it or not but fennel is a flowering plant that belongs to the carrot family. But unlike the carrot, it is not a root vegetable. The stalks of the fennel grow above ground and form a thick bulb. The feathery green leaves at the tip of the stalks resemble dill in appearance and can be used as a great seasoning. When in flower, tiny yellow flowers on short pedicels appear and produce seeds. Every part of the fennel is edible and can be enjoyed raw or cooked.
Fennel has an anise-like aroma and the more you steam or braise the fennel, the more intense the aroma gets. Fennel is also a very healthy vegetable low in calories! It contains twice as much vitamin C as oranges. It is also rich in beta-carotene, which is converted into vitamin A in the body. Fennel is also an ideal supplier of B vitamins. Next to minerals such as iron, potassium, and phosphors, fennel also has antioxidants- the so-called free-radical scavengers, which render toxins in the body harmless.
Roasted Fennel Salad with White Beans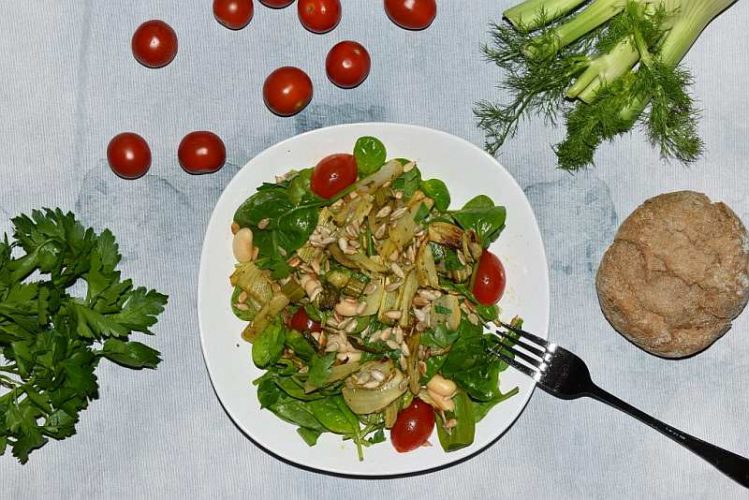 I decided to roast the fennel to really get the most out of the aroma. In addition to the tuber, you need oil, herbs, soy sauce (or tamari for the gluten-free version), baby spinach, cherry tomatoes, white beans, pumpkin seeds, and a delicious balsamic dressing.
Ingredients for two servings
For the salad:
7 oz baby spinach
1 cup ( 9 oz) white (cannellini beans)
5 oz cherry tomatoes
For the roasted fennel:
1 big fennel bulb (15 -18 ounces)
1 tbsp refined olive oil
1 tbsp Italian herbs
2 tbsp soy sauce
For the balsamic dressing:
1 tbsp balsamic vinegar
1 tbsp cold-pressed olive oil
1 tsp maple syrup
1 tbsp water
a pinch of salt
a pinch of pepper
Topping:
3 tbsp roasted pumpkin seeds
How to prepare the fennel salad
Drain and rinse the cannellini beans and set them aside.
Preheat the oven to 390 degrees Fahrenheit.
Wash the fennel and cut it into strips. Place in a bowl, and add oil and the spice mixture.
Then, transfer the fennel strips onto a baking tray and roast in the oven for 25 minutes (depending on how crispy the fennel should be, leave it in for another 5 to 10 minutes).
While the fennel is roasting in the oven, prepare the dressing, halve the tomatoes and roast the pumpkin seeds.
Once the fennel is done, add the soy sauce.
In a large salad bowl, add baby spinach, cannellini beans, halved cherry tomatoes, and dressing. Mix well.
Spread on plates and garnish with roasted fennel and top with pumpkin seeds.
Enjoy as a main dish with baguette, socca bread, or as a light appetizer to your main course.