Earlier this week I  cooked a Moroccan chicken tagine with sweet potatoes in the slow cooker. A friend I was telling about my new found affection for North African food suggested this recipe to me. The meal was very tasty, the chicken tender and juicy. And the sweetness of the dates complemented this savory dish. I love the combination of the sweetness of the dried fruit with the fragrance of the exotic spices.
Here you see, what I need for this meal.

Ingredients for the Moroccan chicken tagine:
2 medium-size onions
2 cloves garlic peeled
1 lb sweet potatoes
1 oz fresh ginger
2 lbs chicken legs
2-3 tbsp flour
3 tbsp sunflower oil
4 tbsp soja sauce
4 tbsp rice vinegar
10 stoneless dates
2 cups chicken broth
fresh coriander to garnish
salt and pepper to taste
2 tsp tagine spice mix
How to cook the Moroccan chicken tagine with sweet potatoes: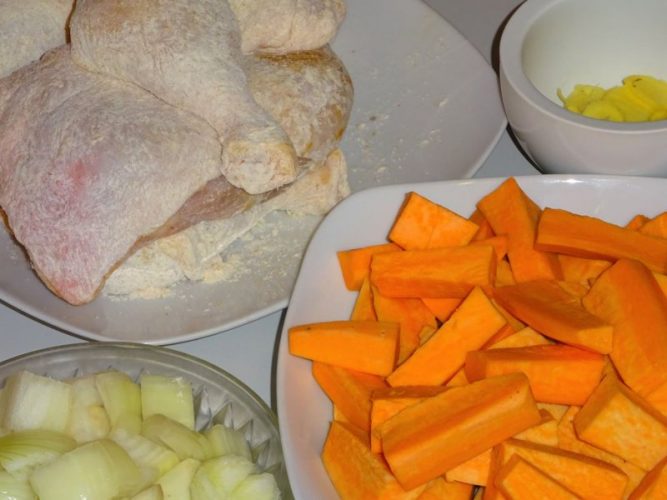 Peel sweet potatoes, garlic, onions and ginger. Cut sweet potatoes into wedges, chop the garlic finely, cut the ginger into very thin slices and the onions into cubes.
Cut the drumsticks between the upper and lower joints. Places the chicken pieces in a freezer bag, add flour, salt, pepper and tagine spice mix. Close the freezer bag and shake well to distribute the coating evenly over the chicken pieces.
Heat 2 tbsp of the oil in a frying pan and fry the chicken pieces until they are nicely browned. Then remove the chicken pieces from the frying pan.
With the remaining oil, fry the onion cubes and garlic until lightly browned. Add the soja sauce and the rice vinegar and boil for a minute.
 Now place sweet potatoes, dates, the ginger and the onion-garlic mix in the slow cooker, pour in the chicken broth, add the chicken pieces. Mix and close the lid of your slow cooker. Cook on low for 7 hours.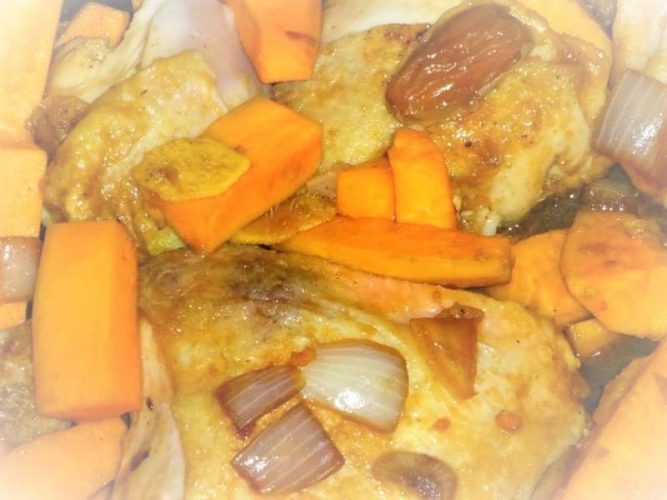 When cooked sprinkle with chopped coriander leaves.
This meal can go without a side dish. But if you want more carbs,  serve couscous or flatbread as a side dish.
By:


Andrea