For a low-carb diet, it is trendy to substitute real pasta with vegetables and spiralize zucchini, carrots or cabbage, which I already tried out and liked a lot, especially the 'zoodles' (spiralized zucchini). The leek at the farmers' market looked mouth-watering. I decided to go for the leek and cook leek noodles a la carbonara tonight. Maybe the future term will be 'Loodles a la carbonara'? I hope my 'loodles' will also become a favorite substitute for pasta.
Leek is Healthy
Leek contains many healthy compounds, such as vitamin C, iron, potassium, and folic acid. It is even said, that the vegetable with the scientific name Allium porrum has antimicrobial properties. And of course, it has a lot fewer calories than pasta.
I left the farmers market loaded with two pounds of fresh leek, beautiful red cherry tomatoes, a head of garlic and a bundle of fragrant thyme. The other ingredients already waited in the fridge to be used. At home, I prepared the leek right away. Usually, I cut the leek in rings, today I cut thin long strips. With a sharp knife, this is an easy job.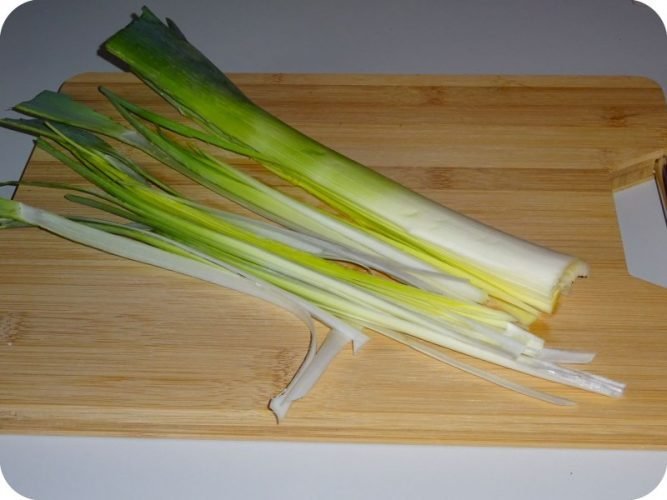 Then I washed the leek thoroughly to remove all the sand and let it dry in a colander. I cut the tomatoes, washed the thyme removed the leaves, and chopped those. I always prepare all my vegetables first before I start cooking, that I have everything handy. To cook the leek I used a large saucepan. Watch out that you don't overcook the leek strips and drain.
Then I started the carbonara, I used 8 ounces of bacon. This was a lot, you can easily reduce it to 4 ounces. I also like to add some dry white wine, I used a Chardonnay, to my carbonara.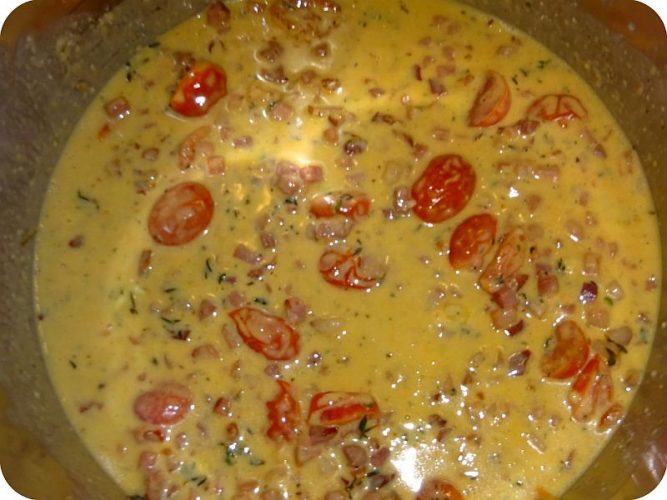 My husband was very suspicious about the green 'loodles', but once he started eating he was impressed. There were no leftovers. Certainly, a recipe which will be more often on our and maybe on your table.
Ingredients for Leek Noodles A La Carbonara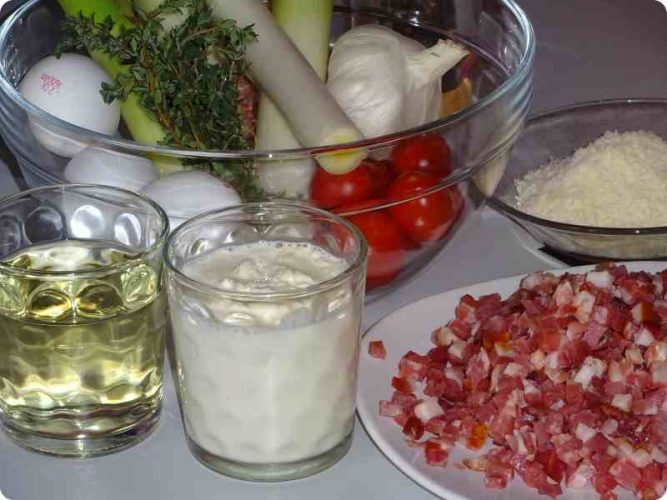 2lbs leek
8 oz cherry tomatoes
1 clove crushed garlic
8 oz diced smoked bacon
3 egg yolk
a handful of fresh thyme leaves
1 cup of liquid cream
3/4 cup dry white wine
4 tbsp grated Italian cheese
salt and pepper to taste
How to cook the Leek Noodles
Clean the leek: with a sharp knife trim off the root end and cut away the dark green tops of the leaves. Then cut down the center of the leek to get two halves.
From each half cut lengthwise, thin long strips.
Now wash the leek strips thoroughly in cold water to remove all sand.
Cook leek in saltwater for 5 to 8 minutes.
Meanwhile, wash the cherry tomatoes and cut them in half, peel garlic and crush, wash thyme and let it dry on a paper towel.
Fry the diced bacon in a frying pan until golden brown, remove and let it drip off on a paper towel.
Fry the tomato halves in the ham fat. (Keep a handful of tomatoes aside for garnish)
Whisk the egg yolks.
Heat the liquid cream together with the white wine and thyme, at low temperature. Don't let it boil. Carefully stir in the whisked egg yolks. Add salt and pepper to taste.
Stir in grated cheese, fried bacon, and tomatoes
Combine the strained leek noodles with the sauce, and let it sit for 2 minutes.
Using a spoon and a fork wrap the leek noodles into nests and arrange on a plate.
Garnish with thyme and cherry tomatoes and grated cheese.
This is a great dish to which a Baden Cream Cake goes very well as a dessert.