Proctor Silex® Corporation is a U.S. manufacturer of small kitchen appliances. The company's history with kitchen products reaches back into the early nineteenth century. They were first to mass manufacturing small kitchen appliances like toaster, coffee makers, automatic irons…, so the prices became affordable. A Proctor Silex slow cooker has a reputation of being a low maintenance, quality, and reliable kitchen appliance.
Reliable Proctor Silex Slow Cooker
The Proctor Silex 33043 4 Quart Slow Cooker is a simple manual slow cooker without any bells and whistles. Only one mechanical control knob to set the temperature of the slow cooker high vs low or set it to keep warm. The removable stoneware crock and the tempered glass lid are dishwashers safe for convenient cleaning.
It is this simplicity that makes the Slow Cooker from Proctor Silex so durable and reliable. The cooker is very easy to use and even novice cooks will cook up delicious, healthy recipes.  The secret is the slow cooker low cooking temperature at which the food will simmer for many hours. This cooking process brings out the unique taste of each ingredient and turns it into a mouth-watering meal.
So if you are looking for an affordable slow cooker and you do not need any sophistication or elegance, there is one product that suits you: the Proctor Silex 33043 4 Quart Slow Cooker. It stands out among other slow cookers because it is affordable and simple in function and design.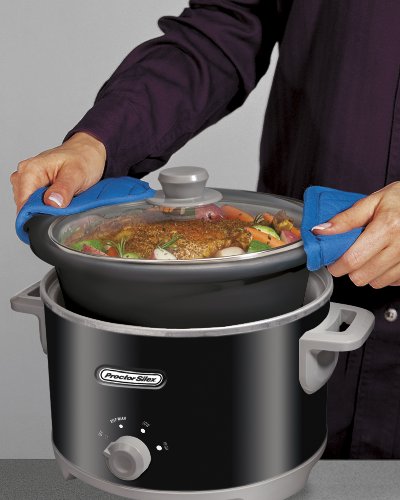 Features
The Proctor Silex 33043 4 Quart Slow Cooker has a small capacity perfect for a small family or single household. Its capacity is 4 quarts and has dimensions of 11.8 x 11.8 x 9.5 inches. It does not take up too much space on your kitchen countertop and has a presentable design that can match kitchen interiors.
The stoneware is safe and can be washed using the dishwasher. It can be lifted up so you can easily clean it up. The glass lid is also dishwasher safe.
This product is guaranteed to be reliable and durable as Proctor Silex ensures that its products pass quality inspections. Materials used are safe and free from toxins and unhealthy BPA (Bisphenol)
The Proctor Silex 33043 4 Quart Slow Cooker is one of the simplest and easiest to operate. It's perfect for people who have no idea how to cook.
Pros and Cons of the Proctor Silex Slow Cooker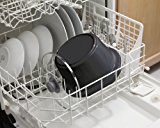 Just like any other product, the Proctor Silex 33043 4 Quart Slow Cooker has pros and cons too. But for the price it comes at the advantages outweigh the disadvantages.
The following lists are the pros and cons of the Proctor Silex 33043 4 Quart Slow Cooker:.
Pros:

Cons:

Small capacity 4 quarts
Stoneware Crock
Compact design
Very easy to operate
With keep warm setting
Easy to clean
Dishwasher safe
Very affordable

No power indicator
Very plain design
Summary
The Proctor Silex Slow Cooker is an
affordable and durable product
that is a great addition to any small kitchen. It has the right
capacity for small-sized meals
and it is small to not take up too much space on your kitchen's countertop.
The design is plain and has very basic functions. It does not have a digital display, auto shut off or auto warm features. It does not even have a power indicator.
Despite its simplicity, the Proctor Silex 33043 4 Quart Slow Cooker is easy to use and easy to clean. It is dishwasher safe and still has the keep warm feature.
Even novice cooks can create delicious meals. You don't even have to spend your energy and time – just put in all the ingredients, turn the slow cooker on, and leave it for a couple of hours depending on your recipe.
Beef Stroganoff, tasty stews, curried lentil soup, honey buffalo meatballs, pulled beef sandwich burger, and more – there's no complicated recipe with the Proctor Silex Slow Cooker.
If durability at a very affordable price is what you then this slow cooker from Proctor Silex is a great value purchase.
Happy cooking!