I think I ate way too much meat over Christmas, but that's pretty much always the case over the holidays. I recently came across a campaign in a magazine: "Make January a Veganuary".
What a great idea, I thought and decided to take part, because that's actually something for me too. So I not only do something for my health but also make a small contribution to environmental and climate protection. I'm definitely not going to be a full vegan. Now and then I appreciate a tasty piece of meat, but I have to make sure that it doesn't come from factory farming.
At the beginning of the Veganuary, I found a recipe that was quite easy to cook up:
Vegetable Balls With Cream Sauce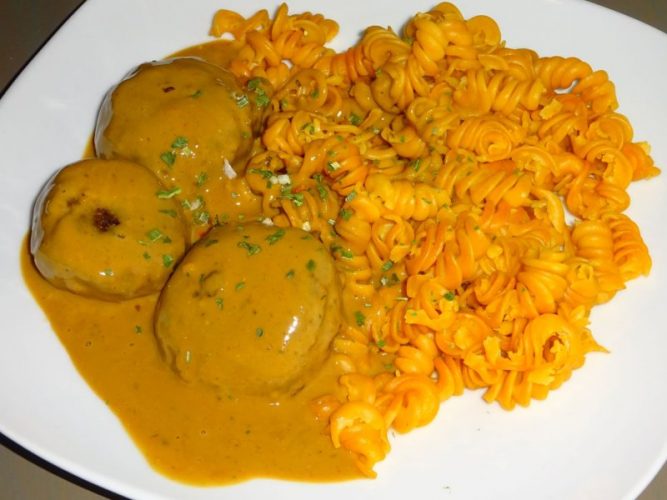 Meatballs also called 'Köttbullar' are a specialty from Sweden. Alternatively, these balls can be made with just vegetables. In Sweden, they are called 'Grönsaksbullar'. In my recipe for today, I use mainly red lentils, mushrooms, and oats.
Ingredients for the vegetable balls (4 servings)
0.5 cup red lentils
1 onion
4 cloves of garlic
2 tbsp olive oil
1.75 cups brown mushrooms
1 cup of oat flakes
0.5 bundle parsley
5 tbsp soy sauce
salt
pepper
Ingredients for the cream sauce
1 cup  vegetable broth
1.75 cup of coconut milk
1 teaspoon  mustard
1 tbsp  cornstarch
Preparation
Cook the lentils in a saucepan according to the instructions on the packet.
Chop the onion and garlic and sauté in a pan with 1 tablespoon of oil for about 3 minutes.
Clean, chop and mix the mushrooms in the pan. Fry for  3 minutes.
Finely grind the oatmeal with a mixer. Add the cooked lentils and the fried vegetables. Mix 2-3 times without completely pureeing the mixture to a paste.
Chop the parsley and add to the mixture. Add 2-3 tbsp soy sauce. Season to taste with salt and pepper. Mix everything well and let it steep for about 10 minutes.
Shape the mixture into balls with damp hands and place on a baking sheet lined with baking paper. Brush the balls with a little oil and bake in the preheated oven at 350 ° F top and bottom heat (320 ° F convection) for 25-30 minutes.
For the cream sauce, mix the vegetable stock, coconut milk, 1 tbsp soy sauce, and mustard in a saucepan. Boil. Season to taste with salt, pepper, and garlic powder.
Dissolve the cornstarch in 2-3 tablespoons of water and add to the sauce. Simmer until the sauce is creamy. Add the vegetable balls to the cream sauce.
Preparation time: 60 minutes
Serve with pasta or mashed potatoes. A healthy side salad is also an excellent accompaniment to this dish. Enjoy!!!
For those who are not vegan, I would like to recommend the homemade Italian meatballs with tomato sauce and fresh herbs, a classic but always very yummy dish…