My husband asked me to cook a meal with fish and lots of vegetables. Given that I'm hooked on Moroccan food lately I searched for a recipe for Fish Tagine. Actually I have never cooked fish in the slow cooker. The recipe for the Moroccan Fish Tagine is more complex than the Vegetable Tagine or the Chicken Tagine. I thought the multi-cooker, where I can regulate the temperature the better option for this fish dish.
Here you see all the ingredients for the Moroccan Fish Tagine: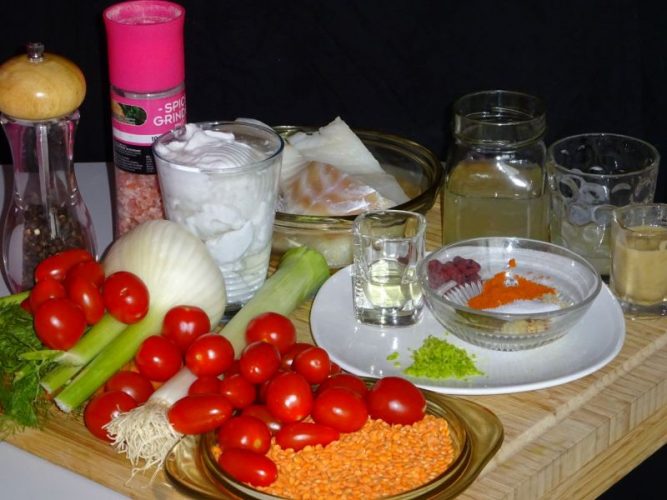 Ingredients for the Moroccan Fish Tagine:
1 lb white fish fillet ( I used cod)
1 bulb fennel
2 medium carrots
1 medium-size leek
3/4 lb ripe cherry tomatoes
3.5 oz red lentils
1 can coconut cream
1 can fish (or vegetable) broth
2 tbsp sesame paste
salt and pepper to taste
Ingredients for the fish marinade:
2 cloves garlic
1 small red chili
1 organic lime
2 tsp ground cumin
1 tsp ground cardamom
2 tsp sweet paprika powder
1 tbsp tomato paste
2 tbsp sunflower oil
1 tsp salt
How you prepare the Maroccan Fish Tagine:
Prepare the marinade:
Rinse lime under hot water, dry and grate the peel of the lime finely. Then cut the lime in half and squeeze the juice out of the lime.
Peel garlic, mix with the chili, ground cardamom, ground cumin, paprika powder lime zest, salt, tomato paste, and oil in a grinder and mix to a paste.
Now rub this paste into the fish cubes, using household gloves. Put the marinated fish in the fridge.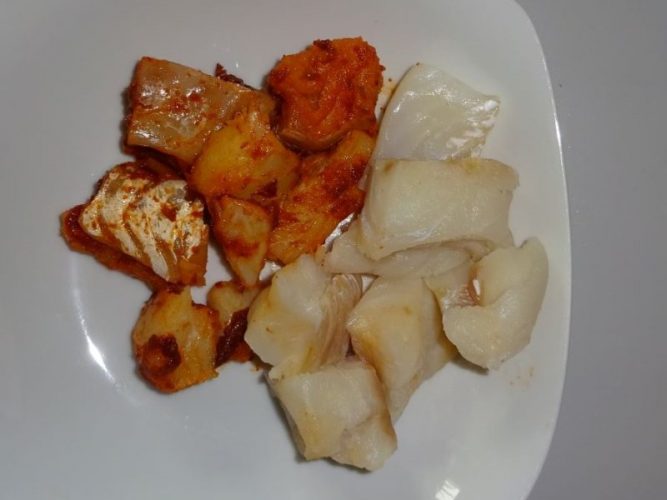 How to cook the Morrocan Fish Tagine:
Cut the vegetables: wash the fennel bulb, remove the green leaves but keep them for decoration. Cut into strips. peel carrots cut into slices. Wash the leek and cut into rings. Wash tomatoes and cut in halves.
Heat the sesame paste and fry fennel strips, carrot slices and the leek rings for about 10 minutes. Stir all the time to make sure veggies are evenly covered with the paste and to avoid burning.
Now add lentils and tomatoes and mix well. Cook for 5 minutes.
Add fish cubes, stir in fish broth and coconut cream, and briefly boil it up.
Reduce temperature to 280 F and let it cook for 1 hour.
Add salt, pepper, and the juice of the lime to your taste.
Garnish with the chopped fennel leaves.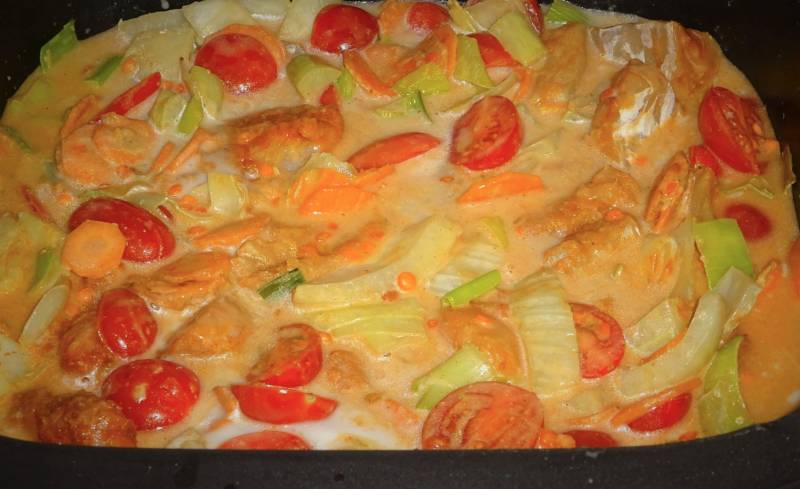 Serve Basmati rice or flatbread with your Moroccan Fish Tagine.