Kale is a super vegetable that is best harvested and eaten during the cold months of the year. In winter in particular, it is crucial for us to eat enough healthy foods that are good sources of vitamins. What is better for this than kale?
Kale, which botanists call Brassica oleracea var. sabellica, is an excellent source of vitamins (vitamins A, C and E). This cabbage is also rich in minerals such as calcium, magnesium, iron and zinc. Kale is easy to grow and frost hardy. In fact, kale is said to taste better when harvested after the first frost.
Kale! Favorite Superfood of the Old Romans
Kale does not form a real 'head' as other cabbage varieties do, it rather has a thick stem with curly leaves growing out of it, just like the ancient, original cabbage. The Greeks and Romans already cherished kale. As you know the Romans went over half of (today's) Europe and North Africa and introduced this leafy green vegetable wherever they went. And with the settlers to the new world, kale was also introduced into America.
Hotpot with Kale and Spelt Grain
A great recipe for cold autumn or winter days with local and seasonal ingredients in this stew with kale and spelt grain. Super easy and quick to prepare and so delicious.
My ingredients for Hotpot with Kale and Spelt Grain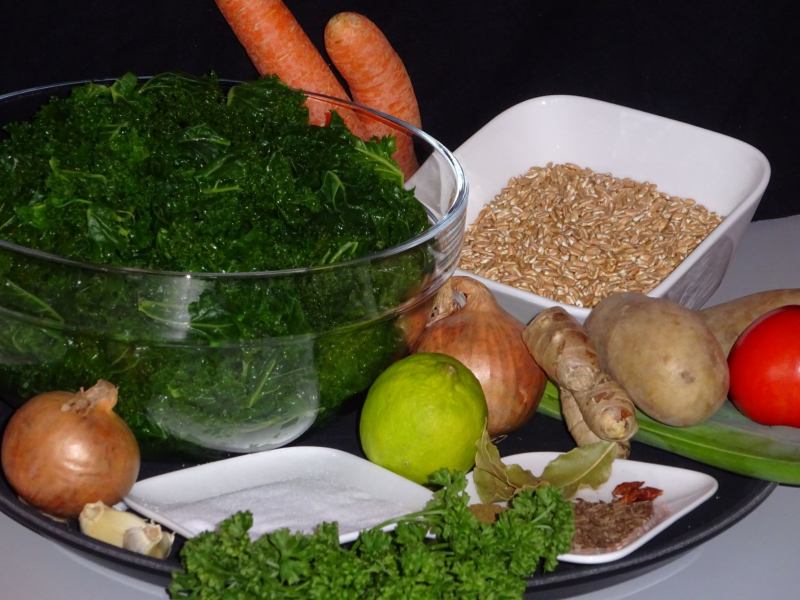 2 lb kale
1 cup spelt grain
2 medium carrots
1 medium-size leek
3  medium-sized potatoes
1 medium-sized tomato
2 medium-sized onions
2 garlic cloves grated
1 tbsp freshly grated ginger
a big handful of chopped parsley
1 organic lime
2 bay leaves
2 small red chilis ( I used my dried chilis) crushed
1 tsp ground cumin
2-quart water
1 tbsp salt
1tsp freshly ground black pepper
Sunflower oil
How to prepare the Hotpot with Kale and Spelt Grain
Prepare the kale for cooking: remove the leaves from the stalk, and discard the stalk and withered leaves. Tear up the leaves along the stems and middle leaf ribs. Wash and rinse kale thoroughly. Place in a big bowl and pour boiling water over kale and let it sit for 10 minutes. Then strain the hot water and rinse with cold water.
Prepare all the vegetables: cut onions, potatoes, and tomato into cubes, carrots into slices, leek into rings.
Cut the lime in half and squeeze out the juice.
Heat some sunflower oil, fry onion cubes, ginger, garlic, and chilli until golden.
Add spelt and all spices and fry for 2 minutes, then add water. Bring to boil. Let it boil for 20 minutes.
Add carrots, potatoes, and leek and boil for another 10 minutes.
Last add kale and tomato and lime juice. Bring to boil, then let the hotpot simmer for 15 minutes.
Add salt and pepper to your taste and garnish with parsley.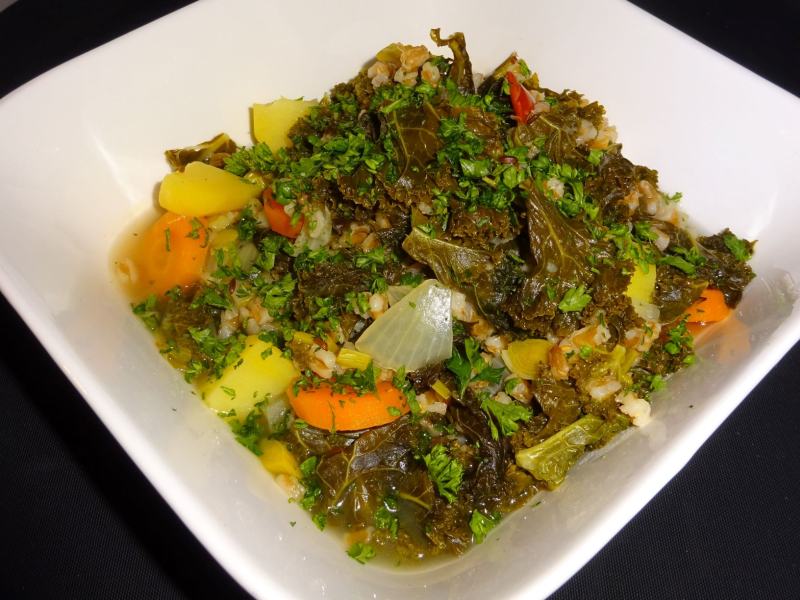 This dish is best cooked in a normal pot. But it also turns out very yummy when cooked in a slow cooker. The advantage is that you can simply chop everything up, toss it into the pot, and after a couple of hours you have a tasty creamy vegetable stew.